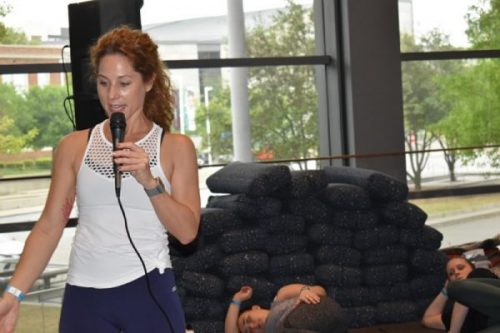 The Dallas Yoga & Fitness Festival had it's 2nd annual event this year on Saturday April 6th at the AT&T Performing Arts Center in Downtown Dallas.  Several hundred motivated people came out to experience the array of classes offered throughout the morning in this beautiful space!
The concept of this unique event is to offer a variety of classes each hour on the hour for 4 hours! The event began at 9:00 and the final class was at 12:00. Classes are 45 minutes, so you have 15 minutes to recover, chit chat and make your way to your next class option, or maybe choose to stroll the dozen or so booths selling fitness gear or educating on local, health-based services. Lorna Jane brought out a few racks of their style-forward technical workout gear and offered a discount at the event as well!  Jennifer Ostman, my go-to nutrition gal had a booth setup up promoting her newly launched online 30-day Real Food Challenge!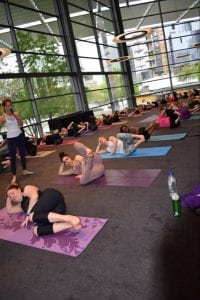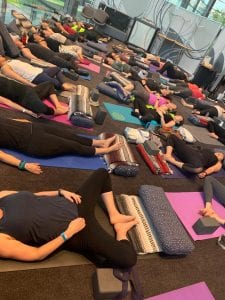 Seven classes were offered each hour ranging from hip hop yoga and deep stretch, to Pilates and dance! This setup allows you try several class formats all for one price ($30 early bird, $40 at the door).  I also love that your commitment is only 45 minutes for each class, which is shorter than the typical one-hour studio class.
I was super pumped to teach about 50 people at my mat Pilates class! It was a first Pilates class for many of the attendees. The response was fantastic! They now understood what Pilates was and see the awesome benefits and how and why it fits so well into a regular workout regime! I am guessing their abs and glutes were screaming the next day (I laugh cynically). ????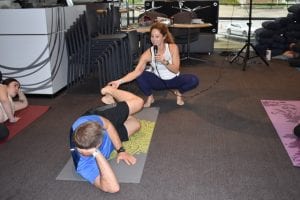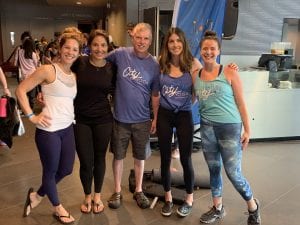 The attendees were awarded a swag bag of goodies and the members of my class received an TrainerKristen.com exercise band! It was all smiles at this event from beginning to end!
BUT, the BEST part of the success of this event is that all proceeds benefit the Center's education and community engagement programs.  These programs allow the Center to provide students, families and lifelong learners with opportunities to experience the performing arts!
Can't wait to see y'all next year for the THIRD annual Dallas Yoga & Fitness Festival!