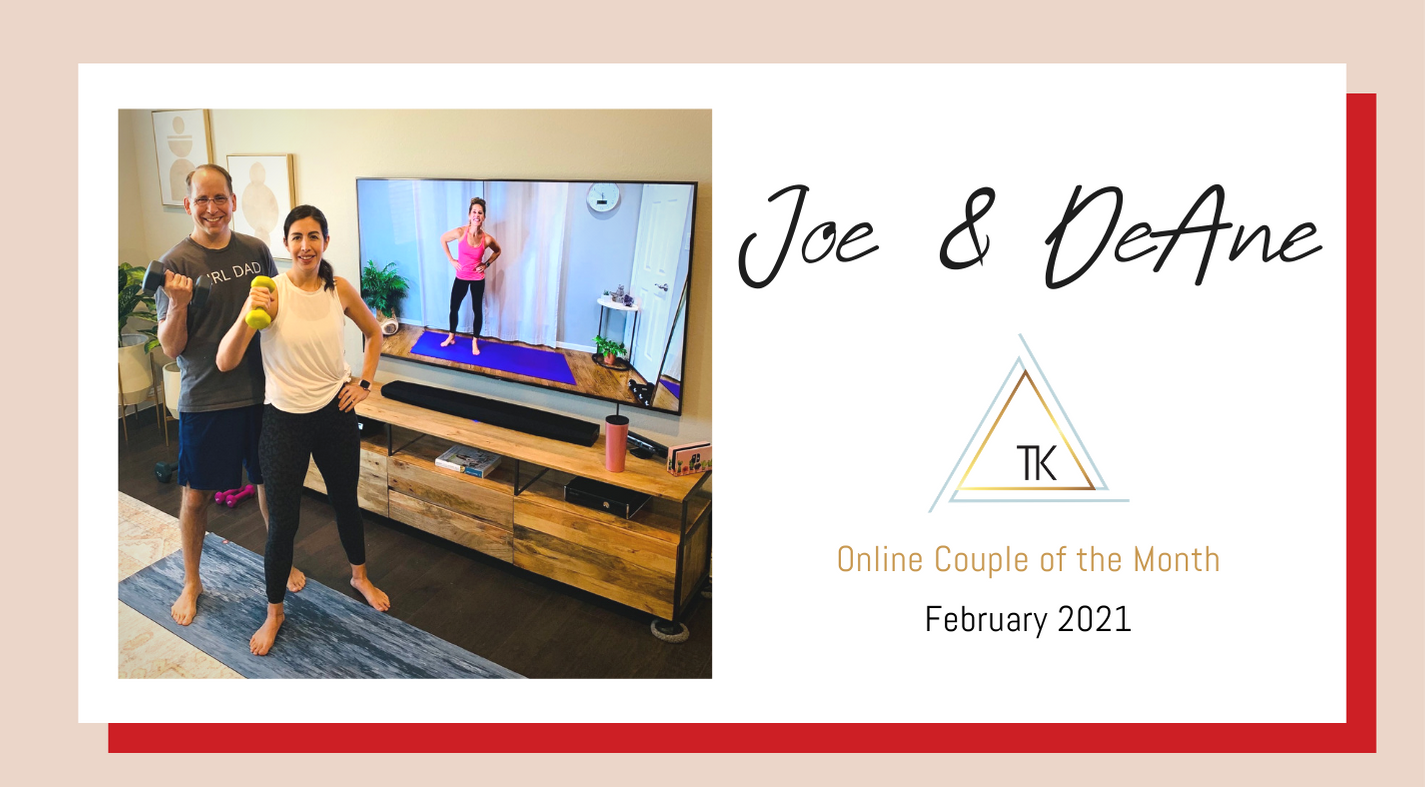 February 2021 – Couple of the Month!
Meet DeAne and Joe and learn about their journey to online personal training with TrainerKristen!
I first met DeAne and Joe WAY BACK in 2006 in a 106-degree room at Bikram Yoga. Whoa! Fast forward through 14 years of life to the summer of 2019. I launched TrainerKristen.com and DeAne was excited and willing to check out my online programming and became one of my very first clients. Since then, she has grown to REALLY make fitness a priority. She is the first one to sign up for every Challenge and regularly sends me photos of her doing her TK workouts, which I LOVE!
Her husband Joe casually joined her for the Fall Challenge and ended up doing every single video! He realized TK workouts were different and that was good for him. He was ready to join the TK community and signed up for his own TK Flex membership and has stayed dedicated to getting in videos every week. He even signed up and conquered the latest January Jumpstart Challenge!
It brings me so much joy to make workouts easily accessible and fun which allows people to be consistent and see and feel real results. But, to have a couple do them together and hold one another accountable for their fitness warms my heart. So happy to be part of your daily health routine, DeAne & Joe!
~ Trainer Kristen
DEANE'S STORY
I have been friends with Kristen for nearly 15 years and for a short time I was an in-person training client before I had my now 13-year-old daughter. When she started TrainerKristen.com I signed up in July 2019 as a TK90 client. I did let her know as a busy mom I wasn't very successful at dedicating myself in the past to workouts at home. That has all changed! I didn't realize how much I would enjoy doing her videos and how that would soon become a habit in my weekday routine.
As a DIY client and Challenge participant, I continued to get more out of my workouts and kept suggesting my husband Joe try it out. He finally did and although we rarely complete the videos together because of our schedules we definitely keep each other accountable and motivated. 
Overall, I feel so much stronger than I did when I started and I know I can continue to accomplish my fitness goals in the future. Thank you, Kristen!
JOE'S STORY
Several months ago, pandemic restlessness got to me and I started doing home-grown workouts, basically alternating days upper and lower body. Tons of squats and lunges with weights for legs, and pushups, dips, and shoulder raises for the upper body. Kind of effective, but definitely BORING and REPETITIVE. I could hear my wife doing her daily TK DIY workouts from my office, and they sounded pretty dang good, so after some prodding from her I tried a few of them… they were great! After a week of trying them out, I knew I needed to sign up and just let TK dictate my daily routine.
What I love about the TK Flex program is that the daily workouts are all configured to get an even mix of upper body, lower body, core, HIIT, and stretching. Lots of variety, and still inching my body closer to a better version of itself each week, without repeating the same boring workout routine week in and week out.
I love the variety, how challenging the workouts are, and they even spread of soreness across my body each week. Add to that Kristen's charisma and encouragement as she leads each workout (and talks to you non-stop, which I'm still in awe of), and you've got the perfect recipe for a fit and fun lifestyle! Thanks, TK!