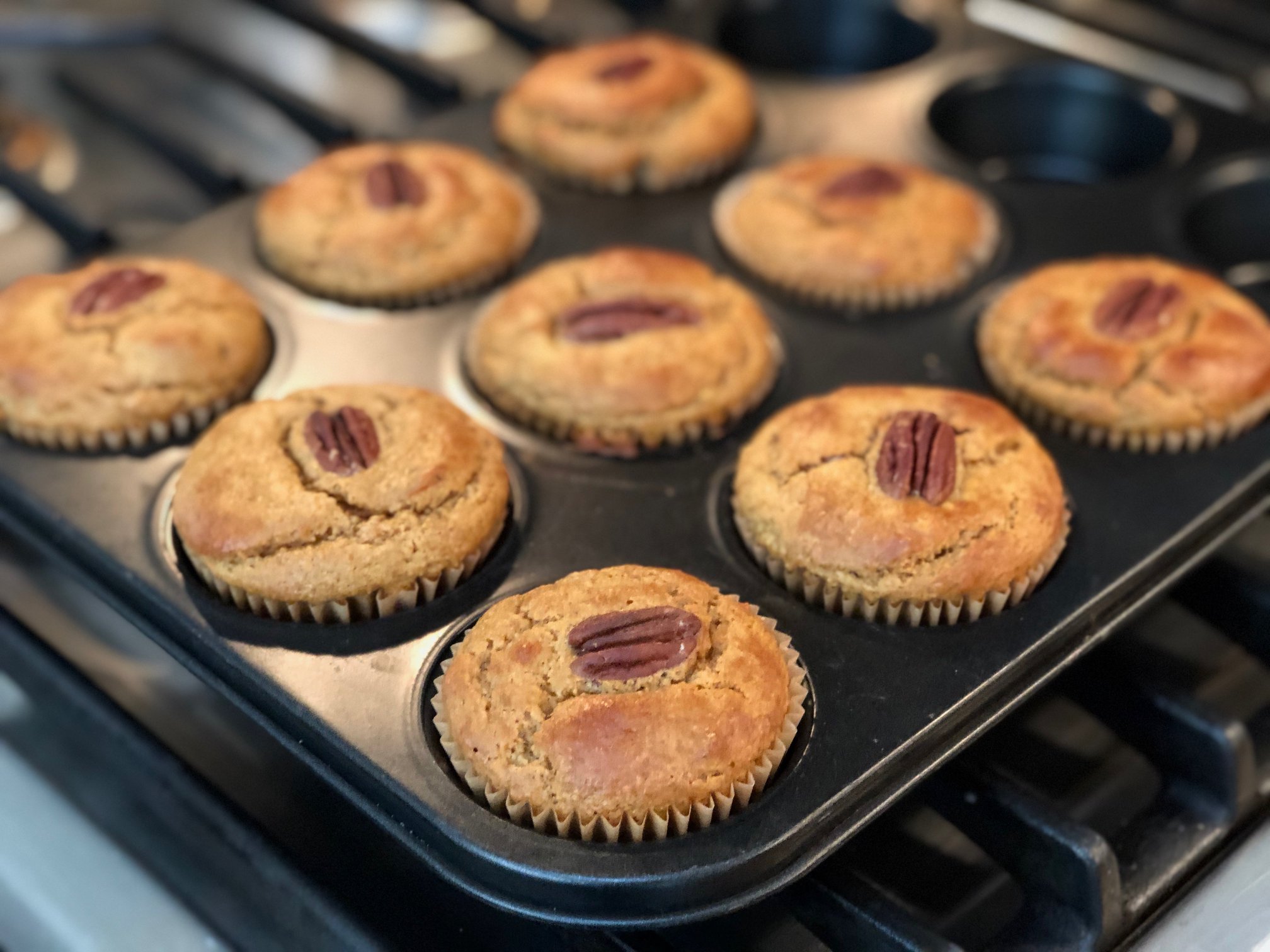 Our challengers are stepping up their game this winter and have been sharing some wonderful recipes in the Facebook group, we just wanted to share here as well!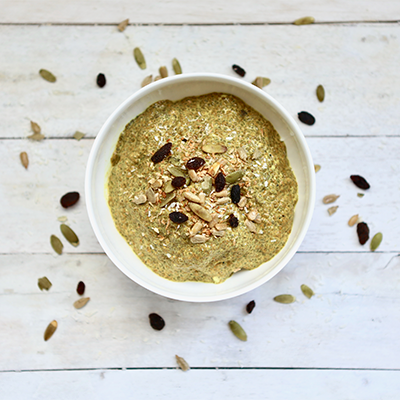 Overnight Golden Spiced Chia Cereal
by SimpleVeda's Christina Vargas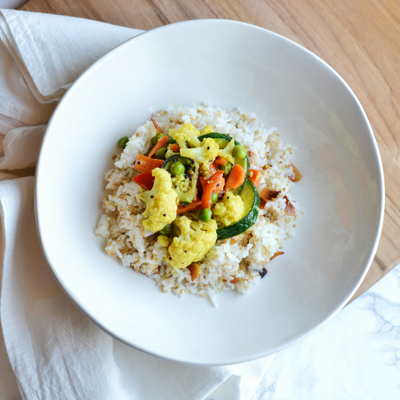 Vegetables in Coconut Curry
by SimpleVeda's Christina Vargas
If you like the flavors of Indian cuisine, this is a super easy veggie dish in coconut milk that I love!! When I'm not sure what to do with all the veggies in the fridge, I resort to this!! Today I added chickpeas to it!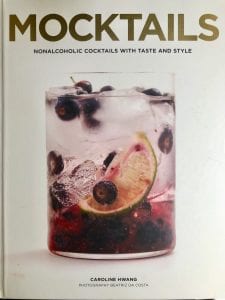 Mocktails
Recommended by Kirsten G. and available on Amazon.com
A collection of more than 80 chic and colorful drinks as visually appealing and flavorful as cocktails—but without the booze. From citrusy concoctions to seasonal specialties, these inventive mocktails will hold their own on the palate and stand out at any party. Chic cocktails without alcohol.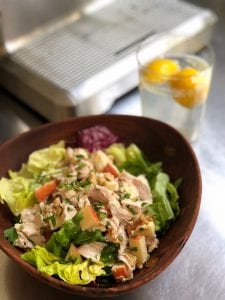 Chicken Salad Salad
by Kirsten G.
Formula = protein+nut+crunchy+herb+greens, and just spoonful or two of vegan mayo (I like Spectrum or Just Mayo brands), plus a light dressing of rice bran oil or olive oil, lemon juice, a bit of dijon mustard whisked together, kosher salt and pepper. (Toss some of the dressing in with the chicken salad mix and some on the greens too). Today, I used shredded roast chicken, toasted walnuts, apple, fresh parsley, on a bed of butter lettuce and radicchio. Alternative combos: tuna in olive oil, toasted almonds, celery or cucumber, fresh tarragon. Gluten-free, dairy-free, high protein, low-carb. Only a teensy bit of sugar I suppose in the dijon and vegan mayo but think considering all the nutrition it offers, worth it. Even if you omit those, it works. Adjust to your liking. Enjoy!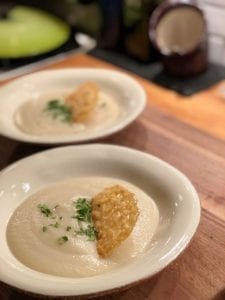 Cauliflower+Fennel+Celery Root Soup
Shared by Kirsten G.
No cream necessary! Makes about 6 servings. Just two of us last night, so we froze the rest in individual servings in small mason jars. (We served this alongside grilled salmon and a simple butter lettuce salad with white balsamic vinaigrette.)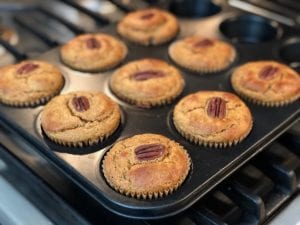 Guilt-Free Yam Delicious Muffins
Shared by Kirsten G.
My slight twist on the recipe published in fitmencook.com.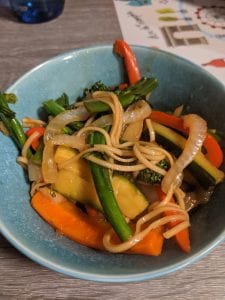 A Veggie Stir-fry
Shared by Jamie B.
Go-to good for you 'recipe'
By Dawn A.
When I am short on time/ am not feeling up to par…I take Traders Joe's chicken and veggie soup and give it an upgrade. 🙂 I add an extra container of bone broth and typically add any extra veggies floating around my fridge – tho you can be more deliberate with veggies of your choice. Sometimes I add extra chicken if I have some in my fridge or I grab a rotisserie chicken and pull off the meat for extra flavor/protein. This is can easily become a well balanced nutritionally dense soup w just a few upgrades!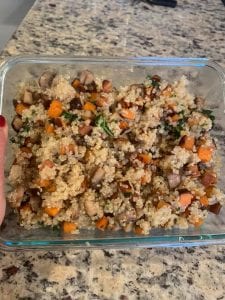 TK's Quinoa Casserole
Shared by Trainer Kristen
One cup of quinoa rinsed, drained and cooked. Mixed it with a sautéed diced sweet potato and mushrooms. I also threw in some shredded kale during the last couple of minutes of the quinoa cooking. Makes 4 large servings! Yummyyyyy!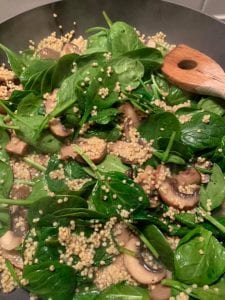 Corinne's One-Pot Meal
By Corinne B.
One-pot millet with spinach and mushrooms:
Fry the sliced mushrooms with the millet in olive oil for 2-3 minutes
Add bouillon and cook for 10 minutes
Add spinach & spices and cook for another 5 minutes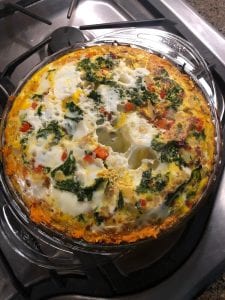 Breakfast Frittata with a Sweet Potato Crust
By Jen Ostman, Shared by Trainer Kristen
Here is a wonderful gluten-free breakfast option to pre-make and have for the week! Jen Ostman is a local Dallas Nutritional Therapist that I have been working with to create a nutrition aspect to TrainerKristen.com! Coming in 2020!