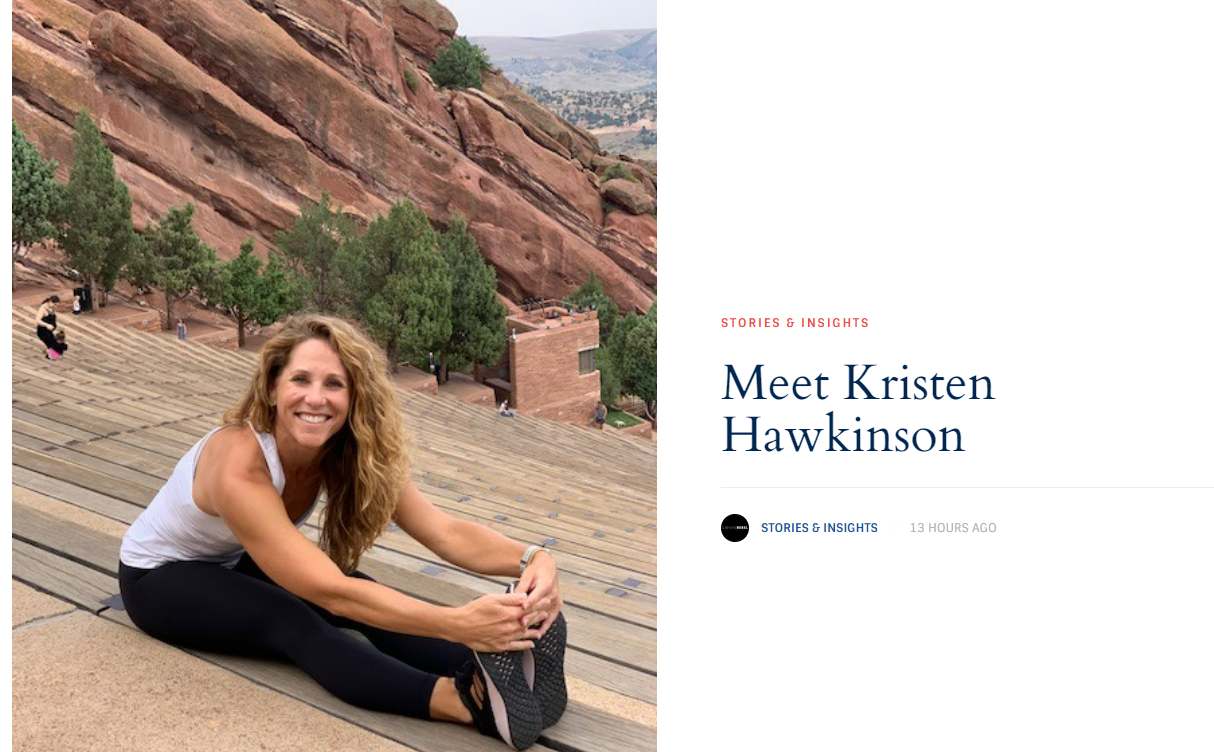 STORIES & INSIGHTS
Meet Kristen Hawkinson
We're excited to introduce you to the always interesting and insightful Kristen Hawkinson. We hope you'll enjoy our conversation with Kristen below.
Kristen, looking forward to hearing all of your stories today. Do you think your parents have had a meaningful impact on you and your journey?
My parents and the way they raised me has had a HUGE impact in my life and career. My core values of Integrity, Fun and Health are deep seeded from my upbringing. Early on, I knew if I chose to do an activity, I had to do it 100%. There was no option to skip a softball practice, a student council meeting, a shift at work or a volleyball tournament. Operating with integrity has allowed me to build trust with my clients as well as my personal relationships. They know that I will be where I say I will be. I will do what I say I will do by when I say I will do it… AND I will be present and give my best – every time.
My dad, Dave, would always ask me if I was having fun after volleyball games. Because if your aren't, then what's the point! And mom, Toni, would never let me walk out the door without saying, "Have fun, Kris!" I try to incorporate fun into every client workout and every day for myself. Keeping things light creates a lovely balance of getting things done and enjoying every task and every day as they come. Taking business and life too seriously seems to automatically heighten stress levels which isn't good for anybody!
I was about 7 or 8 years old when my dad started telling me that I could get something from the ice cream man if I ran around the block with him. What? I was IN! I don't run anymore, but I DO have a healthy relationship with exercise AND food! This also taught me moderation in regard to health. I try to shift clients' perspectives around the "all or nothing" mentality. Fad diets and super intense regimens are simply not sustainable for most people. But regular physical activity and an 80/20 approach to healthy eating can become a positive lifestyle for anybody!
My dad has also been a positive role model for fitness my entire life. We always workout together during visits, we've run dozens of 5k races, skied, and played sand volleyball. He even encouraged me to climb several 14ers in Colorado over the years. All of these experiences have shaped my outlook on the overwhelmingly positive short and long term effects of activity, community and health. Tip: Fitness is not all about weight loss and looks.
Finally….finances. Money was something that was ALWAYS talked about in my house. I had to earn every single thing I wanted. I had weekly chores for my allowance. Putting money aside for my senior trip, for college spending money AND savings was expected from every paycheck. Though I certainly did NOT like this at the time, it shaped my spending habits greatly on a personal level and for my businesses. It helped me learn the value of money and that it's not always about how much money you make, but how careful spending can also contribute to a successful business and trickle down to your personal finances!
I am ever grateful to mom and dad for all the lessons they instilled in me. It has made me an independent woman and a successful business owner. These are great things, but more importantly it has brought me confidence and security through all the ups and down in life. Thank you, Toni and Dave. I owe you everything and I love you!
Kristen, love having you share your insights with us. Before we ask you more questions, maybe you can take a moment to introduce yourself to our readers who might have missed our earlier conversations?
Always an athlete, I knew I wanted to be involved with sports or fitness. I thought athletic training (working with sports injuries) would be my thing. I learned quickly that I wanted to work with everyday people as opposed to athletes. I wanted to share my knowledge of health and fitness and provide the tools necessary to people striving to be healthy and fit. It made personal training an easy choice for me.
As a personal trainer, I hold my clients accountable for their workouts. I ensure that they are getting a safe and effective routine and I keep physical activity and healthy eating a priority in their day to day lives.
What sets me apart from other trainers is that I meet my clients where they are. That varies based on skill level, age, physical limitations and motivation. I have the ability to pivot in a second based on in-the-moment circumstances. Some days may require a little more TLC (stretching or yoga) and some days a bit more booty kicking. I incorporate balance, Pilates and life skills as part of every program – and we always have FUN!
My online platform, TrainerKristen.com provides weekly program to members with modifications and options each day to allow for choices based how their body if feeling and what they need. I take the thinking out of their daily workouts. They just open their nightly email, click and go! Once they complete the workout they comment in the TK FLEX Forum for accountability and as part of the TK community.
What sets me apart from other online fitness platforms, is that I am involved with my members. My site is interactive. I care about their workouts, but also their lives, and their lifestyles. I am always available to my members.
Health, fitness and life balance are at the core of everything I do personally and with my clients. This is reflected in how I coach and how I train. I give everything to my clients that strive for this. I am not a fit for people that are looking for a quick fix. This sets me apart from many in the fitness industry. Lifestyle, longevity and quality of life is the name of my game!
How'd you build such a strong reputation within your market?
Reputation is HUGE in the fitness industry. I have built a strong and positive reputation by holding myself to a high standard. I always do what I say by when I say I will do it. I show up physically and emotionally for my clients. I respond to inquiries quickly and I have created boundaries for myself to keep me excited about what I do. That excitement comes out every single day with clients that I've had for 20+ years and clients that I've had for less than a year.
Listening is also huge. I listen to a client's needs and wants. I meet a client where they are. I connect with my clients. Those traits create long lasting relationships. Long lasting positive relationships create solid reputations.
Can you tell us about a time you've had to pivot?
I had been an in person trainer for almost 25 years when Covid hit. I was lucky in the fact that I had already launched my online platform, TrainerKristen.com, about 6 months prior. When only a few of my clients were willing to do virtual sessions, I had to shift all of my energy to ramping up my online presence.
In a time when a pandemic had me on lockdown all by myself, I had to muster up the drive and determination to create 14-Day Challenges, post regularly on social media and implement any and all marketing strategies to keep my income flowing. Those 2 years ended up launching my website success and connected me with so many people. It makes me smile every day that I grew my business and continue to sustain great success to this day!
Contact Info:
Image Credits
Jazmin Flores – photographer
Clients Tory Saks and Suzanne Yoste
Direct link to this article with CanvasRebel: https://canvasrebel.com/meet-kristen-hawkinson/