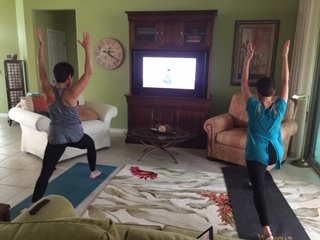 The 14-Day Winter Fitness Challenge last month was so much fun and a huge success on so many levels!
65 participants from Dallas to India & Chicago to Germany did an amazing job at fitting in their daily 20 minute Trainer Kristen videos and 20-minute walks!
We laughed at the ants on my mat, groaned at our sore muscles, and reveled in our feelings of accomplishment and our increasing mental & physical strength!
Cutting out sugar was a challenge for SURE! But we did our best and learned a lot about ourselves and our bodies. Measurable results ranged from a couple of pounds and a few inches lost up to 7-8 pound losses. The most common results were seeing an increase in energy levels, less bloating, feeling stronger,  fitting into clothes better, more confidence overall which is now providing the motivation to keep going on an exercise program.
Happy Challengers
Fitness Challenge Testimonials
I lost 4 pounds, I have felt less tension in my neck/back through the daily movement. Incorporating the walks outside helped me get my time in nature too, which is great for mental health as well.  – Heather<
I lost weight, but more importantly firmed up, toned up and feeling like I got this!  I didn't realize how gluten was affecting my body. I also loved getting messages of encouragement from Kristen after completing the videos. That accountability! – Kristina
I love the format of this Challenge. I feel stronger and more motivated to work out every day. Improved confidence. Down 7 lbs and have more energy! – Golbahar
I love the Facebook group accountability and support system. The workout videos were not intimidating, even for someone who is out of shape. You are always so encouraging, even if you miss a day or screw up the diet. I lost 3 pounds and feel stronger inside. – Jenn
These are a big deal!
Hard work and dedication to yourself DOES pay off! The positive attitude of this group was contagious! I am already looking forward to creating the next Fitness Challenge for 2020!
Stay tuned, y'all!
~ Trainer Kristen