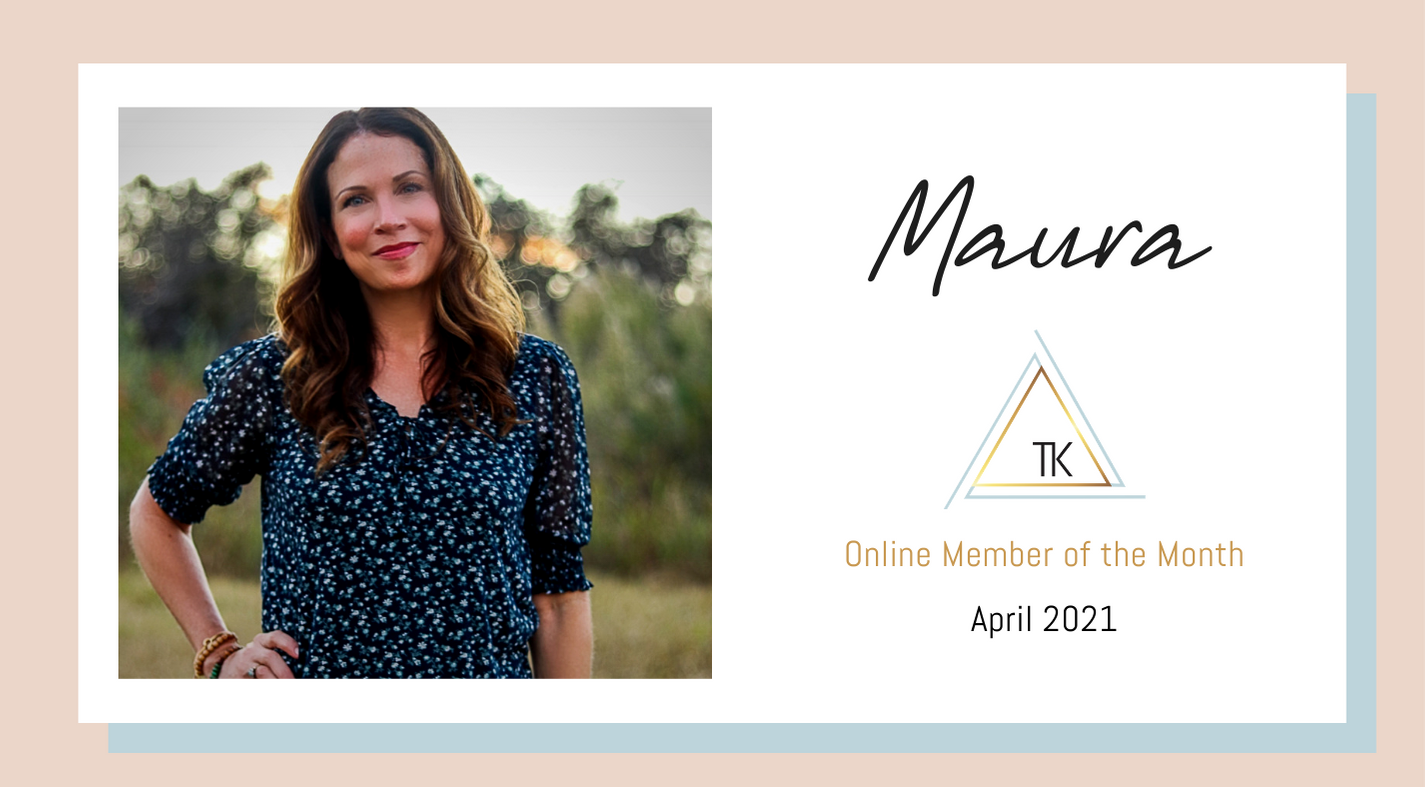 April Member of the Month, Maura Allen, explains how workout variety helped her go from Challenger to DIYer and find inspiration and motivation in the TK community.
Nothing makes me happier than having the opportunity to inspire and motivate somebody to finish a TK Challenge. When they see real results and feel amazing THAT calls for my happy dance!
Maura Allen did that then continued on with the DIY membership AND stayed consistent with 5 workouts a week for 6 months so far! To know that my workout variety continues to help her feel energized, destressed, and manage her family/work-life balance absolutely warms my heart. That's what it's all about.
Maura's contribution to the DIY Forum is always fun, upbeat, and inspiring. She has been a big part of building the TK Community and I am so grateful for that.
Keep it up for yourself, Maura. And carry on to keep the rest of us on our toes as well! The accountability from me is one thing, but to follow one another's posts provides another layer of accountability that is priceless!
~ Kristen
Maura's "TK" Journey
I discovered the greatness of Trainer Kristen back in late September when I saw a friend's (and Kristen's BFF) Instagram story mentioning Kristen's Fit for Fall 2-week challenge. At the time, I was doing Beachbody workouts and lots of walks, which I had done for many years, but I was feeling ready for a change and a reset.
Months of Covid lockdown also had me ready to refresh and reset my workout routine and get back on track with my nutrition. The TK fall challenge did exactly that!! I felt more energized and less stressed every day, which is super important to me and allows me to run around with my 5 year old, practice volleyball with my 13-year-old, and also manage that work/home balance. The nutrition aspect of the challenge had me feeling fantastic and…bonus- I shed some pounds and inches- woohoo!!
After the challenge, I joined Kristen's DIY program, which I love so much! I also took part in the January challenge and am looking forward to the pre-summer May challenge! Her workouts are the perfect blend of cardio, strength, balance, flexibility, and stretching. This combination of workouts has helped me stay consistent because I love the variety, and I love mixing it up every week. Both seeing results and putting in the work are extra motivation to stay consistent with my nutrition. I definitely throw in some treats, but the accountability of the DIY program helps keep me on track!
Most of all, I love Kristen's energy and focus on proper form. She has such a fun and spunky personality, but she keeps it totally real- so great!
I'm so thankful that I found the TK program and would highly recommend it to anyone looking to change up their workouts and find consistency.
~ Maura